News & Events
Ann's Cake Pan in the News...
Posted by Scott Natter on May 27, 2016
A special farewell to Ann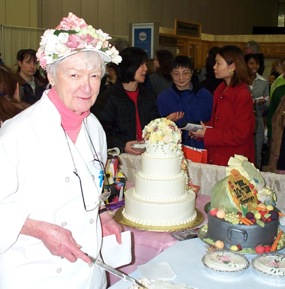 We are so very sorry to say our Mom, the "Ann" in "Ann's Cake Pan", died suddenly in May, 2016 while visiting with our sister Linda in Franklin, MA. She was 86 years old. It's hard to try and sum up our Mom in a couple of paragraphs. She was simply amazing. She loved our Dad - "Pops," she loved her kids - Charlie, Jann, Linda, Bill, Scott, John and Lisa, and she loved life. Mom had a way of always seeing the best in people. It was rare that she ever had an unkind word. At her funeral many recollected to me how she touched their lives... recalling her acceptance of others and her ability to see the silver-lining in the world around her.
Mom died on my brother John's birthday. It was hard for him. She always said that John took the art of sugar flowers to a new level when she passed on the craft to him and I think that's because she also passed on an extra portion of her caring heart as well.
Mom was never one to be idle... through the years Mom was a secretary, waitress, Girl Scout leader, self-employed upholsterer and, as you all know her, a most revered creator more...
Posted by Betsy Natter on April 23, 2016
John places prominently at Cake Decorating Extravaganza!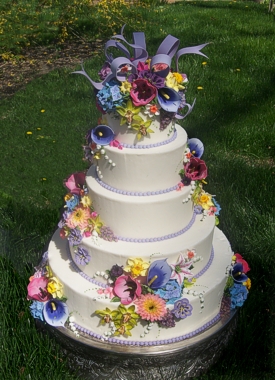 The 2016 Atlantic City Bakery Expo is the largest bakery exposition on the East Coast, featuring cake decorating and baking competitions, educational programs, networking opportunities, and product information. The Expo attracts the top decorators, bakers and exhibitors from across the US and a few from around the globe, including Greece and Italy.
John Natter, Ann's Cake Pan co-owner and primary flower artists, participated in the Expo's Cake Decorating Extravaganza, and was honored to receive the second-place award in the professional level, in the tiered cake category. Other categories included novelty/specialty cakes and sculptured cakes. Two competition levels were offered, professional and beginner for those with less than 2 years experience in the art. John's cake featured a buttercream frosting and a wide variety of hand made spring flowers. The tulips and Calla lilies were hand molded out of fondant icing, and then airbrushed and hand-painted. The rest of the flowers were piped in royal icing. Those flowers included hydrangea, Cattleya orchids, Gerber daisies, stargazer lilies, Narcissus, jonquils, lilacs, pansies, roses and violets. The flowers were then strategically placed in random size sprays around the 5 tier cake and finished with buttercream leaves, leaf tendrils and Lily of the Valley. The top-tier was finished with a topiary of flowers and adorned with a lilac-colored 10 piece fondant bow, a special feature of many of Ann's Cake Pan creations.
An esteemed panel of judges more...
Upcoming Events!
No events currently available...



All events are subject to change